Over the last several years, my sketch book has become one of those personal, somewhat "sacred" things in my life.  It has become my faithful companion, recording words, pictures, abstract shapes, emotions, truth, pain, practice, sketches of people at airports and on the subway in Prague.  I've gotten so I hardly go anywhere without it (and the few times I've left it behind, I'm often sorry I didn't have it with me).
However, no matter how "sacred" and treasured that book may be, it will never be too precious that I won't hand it to a child and let them draw in it.  My grandson Kyle (age 5) has several pages which I treasure as only a Grandpa can, but I have let others, both children and adults add their own work.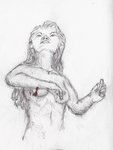 Of course, this always comes with its risks…  One sketch which I just put up on my deviantArt page has a brown blob in the center of the sketch, which was caused by Kyle using a marker on the flip side of the page which bled through.  I'm actually tempted to just leave it there as a bit of "collaboration" between him and me.  (At age 5, he is actually quite the artist, and he loves his art classes even more than gym and recess in his Kindergarten class!)
There's a reason why I hand my sketch book to children.  Most children, I've found, are natural artists.  Some are better than others of course, but they are all uninhibited, and love to draw things.  By handing them my sketch book, I am communicating that I value their art, that drawing is something that is not only fun, but that they can continue to do it through their childhood and when they are adults.  I am an encourager by nature and disposition, and I think my sketchbook may be my most powerful tool.
If I can encourage a young person to take his or her art seriously, to show them that their drawings are more than just childish play, that someone really does value and enjoy their drawings (aside from just their mothers who will stick pretty much anything on the refrigerator), then I feel like I've added something to their life, and perhaps to the world.
(And, of course, I'm still carrying my sketchbook wherever I go….)