Recognition:
---
Arts Clayton Juried Art Show – 2016: First Place
Hold On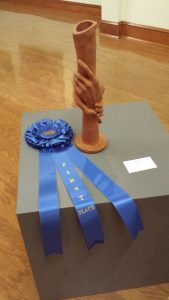 The sculpture flows out of the power of friendship, of someone who is there for us, with the strength and determination to hold on when we are too weak to hold ourselves up.
I entered this piece in the Arts Clayton Juried art show in 2016, at the gallery in Jonesboro, GA. I was pleased to receive a First Place award. The irony was that, on the evening of the opening reception and awards announcement for the exhibition, I was unable to attend, as I was participating in the Incarnate school in Italy. Thankfully, my wife was there with some friends, and was able to accept the prize, and take this photo.
---
Magnolia Fine Arts Show – 2016: Honorable Mention
Working with the FAACE ("Fine Art and Craft Entrepreneurs") group to organize the inaugural event for the Magnolia Fine Arts Show in the summer of 2016, I was delighted to receive an Honorable Mention ribbon for my booth. I have been continuously learning and improving my booth design over the past several years, adding new display systems and learning how to attract and engage people as they come through.
---