Pain
like a knife.
I'm afraid to move
lest I force it deeper.
As years have gone by since since the passing of my father, I have begun to understand just how complicated my relationship was with him.  In many ways, as I was growing up, I saw him as the perfect father — faithful to his wife, providing for his children, a little stern and emotionally distant, perhaps, but always there.  As a well respected member in our church, he was always the first one to lead our family to worship. After dinner, he would always read a chapter from the Bible, and then a chapter or two (or three, if we begged) from some other story book or biography. He worked hard, but not to the point of being consumed by his job.  He was a pioneer in the early days of the computer industry, when calculating machines were still strange and wonderful.  While it was always my mother who loved and encouraged my art and creativity, in college it was my father whose footsteps I followed, studying math and computer science, building a career as a Software Developer.
But then, there were the odd little things I noticed. It was always my father who spoke sternly against the increasing darkness of our secular culture and the evils of things such as on-demand abortions, but then I would notice his eyes following the young ladies and their short skirts whenever they walked by. I began to have a growing awareness that my sisters were growing up with a very different perception of my father than my brothers and I experienced. Their relationship with my father had much darker undercurrents.
Years later, after I was married and with a family of my own, the stories of sexual abuse started to come out.  Mostly brought forward by my older sister, there were increasing tales of sexual abuse, incest, secret abortions, and a relationship of twisted power very different from what others around us saw on the surface. Adding to the uncertainty of these evolving stories, there were hints of a counselor and her possibly inappropriate use of counseling techniques for uncovering "suppressed memories", with the possibility of memories of the past being distorted by biased suggestions.
To say that this threw our family into a tailspin would be too polite. While we have always been close as a family, this severely strained those relationships and our ability to communicate, especially as our aging parents required greater and greater intervention in their care.
Several years later, after a long, slow physical decline, my father passed. I traveled to the state where my parents had moved into an assisted living facility, and worked with my younger brother and two sisters to make funeral arrangements. We had a small, simple memorial service, with several of the family members and grandchildren/great-grandchildren in attendance. No one felt it necessary to bring up the stories and accusations, but my sisters and I were able to find some reconciliation and healing privately among ourselves. The past was not forgotten, but neither was it dragged through the mud in front of everyone else.
I was unable to attend the memorial service for my father, which took place several months later, at the church where we grew up. It was well attended by my parents' home church members, as a time to remember the many years my parents attended there, and the contributions my father had made in the church and community.  My older brother spoke of my father's love for photography, and how he had learned to honor and respect women from my father's example.
And then, he calmly stated that, the "elephant in the room" was the fact that my father had sexually molested my sisters for years, and that this too was a part of his legacy.  I don't know to what detail he described the accusations, but I do know that family and friends were stunned and confused. Some came back to me afterwards, to ask if I had known anything about this. With my sisters, it was enough to deal with the pain between ourselves, in the safety of our family.  Now, everyone had been told that my father was a monster.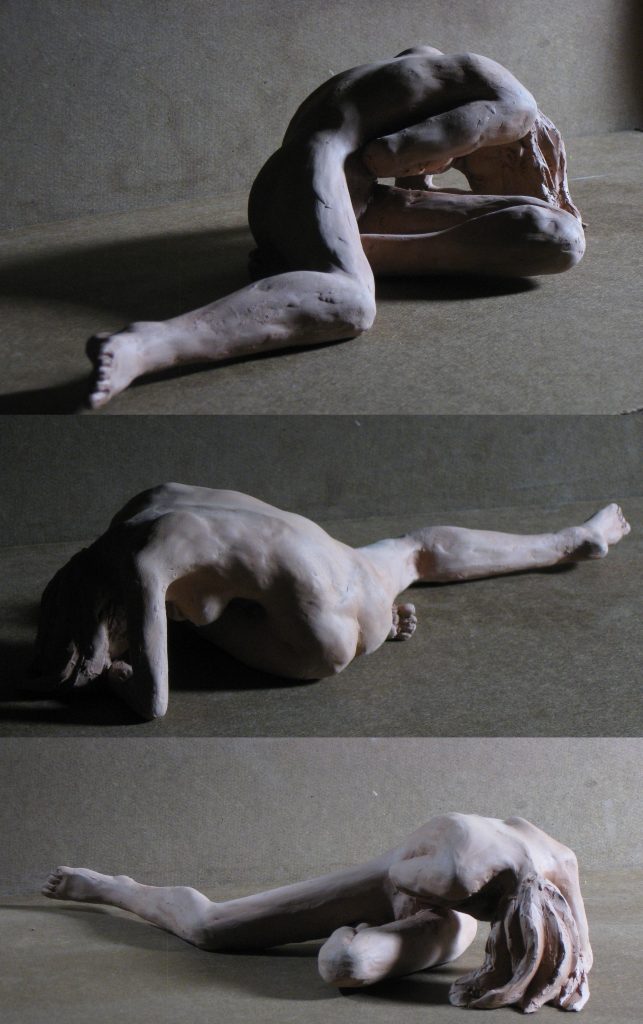 For me, as the smoke cleared, everything was pain and confusion.  I felt like I was betrayed, not only by my father, but my sisters (with the uncertainty of "repressed memories"), and now my brother.  I had grown up on a foundation of trust, and now that foundation was deeply wounded.
The only way I knew how to respond was through this piece:
Pain
like a knife.
I'm afraid to move
lest I force it deeper.
Over time, our family has gone on to slowly heal and reconcile, but it is still a process.