The sculpture, Shattered, didn't start out as a particularly profound piece of art, but it took one of my most painful moments as an artist to turn it into a signature piece. More of that story here.
I have participated in the Southern Hands Artists Studio Tour (SHAST) for several years. I appreciate the space which the Tour creates to connect with people on a more personal level, to tell the stories behind the artwork, and to hear people as they open up and tell their own stories, as they see themselves reflected in my artwork.
This year, a group of four friends walked into the studio. They had made other plans for the weekend, but decided to come to the tour and visit some of the studios in the area. They listened intently to each story I shared, adding their own experiences and observations.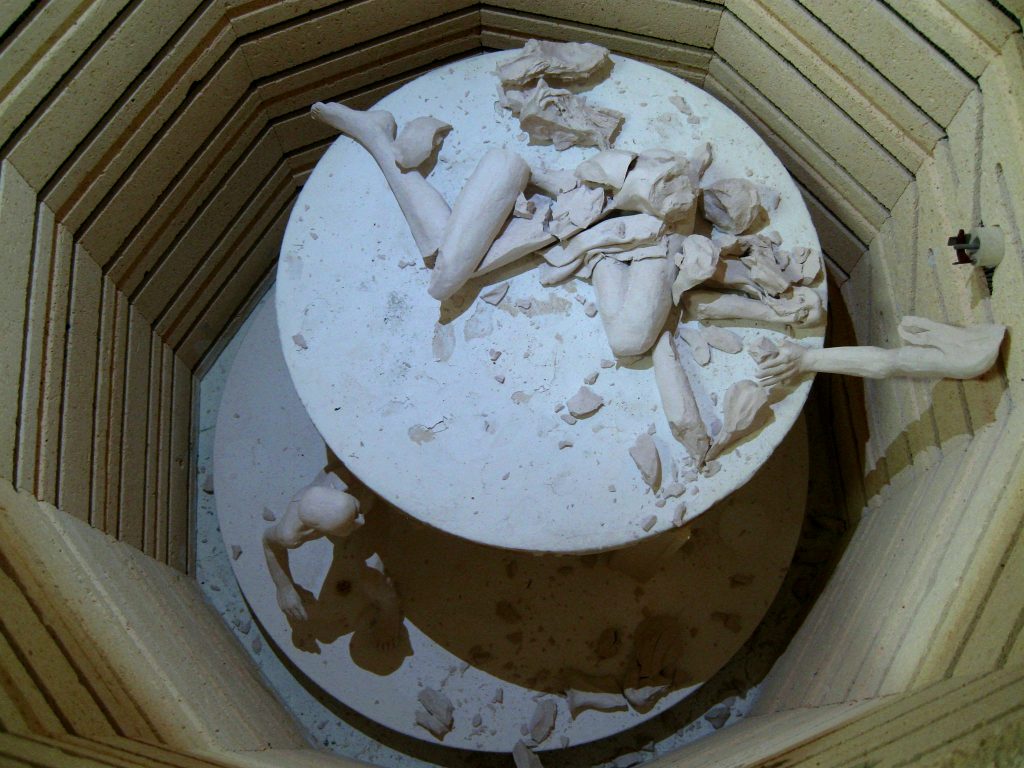 A young woman in the group showed a particular interest when I started talking about the Shattered figure. I showed her the photo of the fractured pieces I discovered when I opened the kiln, and then the sculpture I had recreated by carefully put the pieces back together. When she saw the figure, she burst into tears. She told me that she could see herself reflected in the girl, in the cracks and "scars" she could still see there.
The young woman asked if she could purchase the sculpture. I politely replied that I had already decided not to sell it. The figure had become a signature piece in the theme of restoration and hope which flows through so much of what I do as an artist. She completely understood, and thanked me again and again for sharing the story of restoration, and the way the figure's brokenness had itself become the source of her deepest beauty.
After the group left, I began to think about the piece, and about why I am an artist. I remembered a time when my very wise wife said something: "If you ever find yourself in a situation where you have a Bible which is so dear to you that you cannot give it away to someone who really needs it, then, chances are, you probably haven't been reading it enough."
The situation was different, the principle was the same. If I couldn't find it in my heart to let go of the sculpture, then perhaps I was forgetting why I had created it in the first place, and Who it was that spoke though my creative process to touch the world around me. Did I own that "signature" piece of art, or did it own me? I decided that, if I could somehow get in touch with this woman, I would let Shattered become a part of her personal story.
I remembered we had put out a sign-in sheet for visitors to leave their names and email addresses, in case they were interested in lessons or wanted further information. When I looked at the sheet, I recognized her unusual name. I sent an email to the address she had left, telling her what I had decided and why.
She immediately responded that she was thrilled! We sent a couple of messages back and forth, decided on a fair asking price, and arranged a time when she could come to the studio to pick it up.
Although I was perfectly happy with making the sale of this sculpture, it still felt a lot like letting one of my children go. However, I was confident that she was going to be in a place where she would continue to be a voice of hope and beauty.
What I didn't anticipate was, when the young woman come with her friend to the studio, that she would open up and share with me some of the deep physical, emotional, and spiritual scars which made up her own story. She told me some of the specifics of why she felt this Shattered figure was such a perfect reflection of what she had endured, and more importantly, the person who she had become through that journey of pain and restoration. I was beyond words as I listened, and as I saw her tears of pain, sorrow, brokenness, transformed into hope, forgiveness, strength, and restoration.
I will remember this transaction as one of the greatest impacts on my life and work. This is no longer me speaking through my art, but the artwork, and the Great Artist, speaking back into my life.