The Story Behind the Art
People always ask me about the story behind the art.  The story may be long and winding, following years of creative and personal growth, or it may be short and to the point.  However, each piece takes on a new depth of meaning when you understand a little bit of the thought, history, process and emotion which formed the birth place of that particular expression.
These are some of my stories: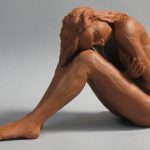 As I sat looking at the finished piece, I was drawn to in her eyes and the way she was holding her arms. I sensed the tension we live in every day, perpetually suspended between the past and the future.