The Story Behind the Art
People always ask me about the story behind the art.  The story may be long and winding, following years of creative and personal growth, or it may be short and to the point.  However, each piece takes on a new depth of meaning when you understand a little bit of the thought, history, process and emotion which formed the birth place of that particular expression.
These are some of my stories: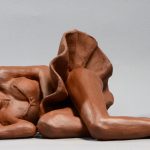 Drawing dancers in their tutus, and the layers and layers of translucent tulle has always been a challenge for me … Trying to sculpt this in clay, … that was a technical challenge I had never been brave enough to attempt.